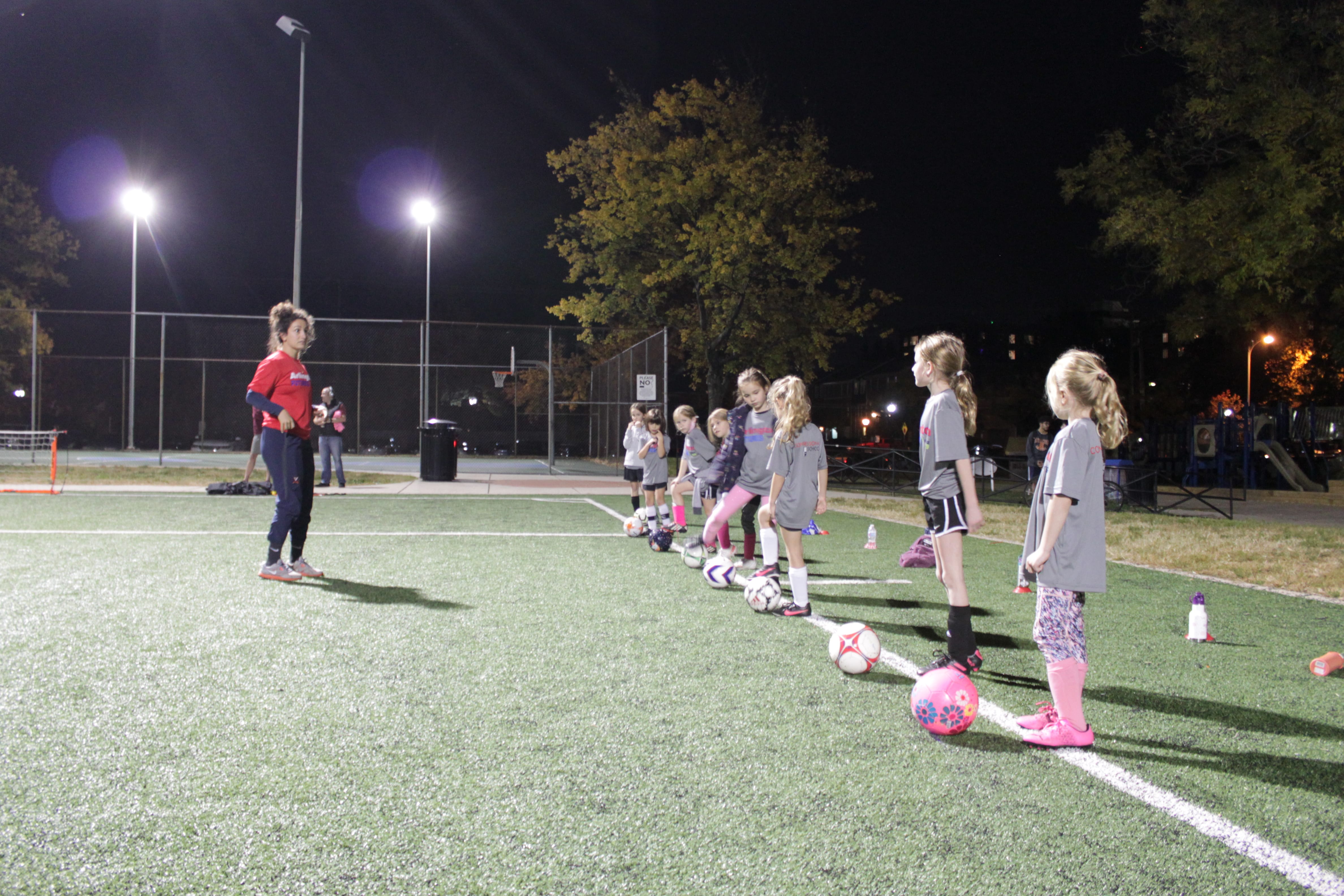 On a recent crisp autumn night, the turf field behind the Thomas Jefferson Community Center was riddled with soccer balls, but also with laughter and excitement.
More than 120 girls and boys enjoyed receiving narrowed instruction over an eight-week period this past fall in conjunction with the new Arlington Soccer U7/U8 Futures program presented by Virginia529 College Savings Plan.

Open to players born in 2014 and 2015 who are interested in advancing their soccer abilities and game understanding, the program uses an age-appropriate training curriculum led by professional coaches.
"This is one of the programs we've been talking about and trying to put together for a while. We're so lucky to have it," said Mo Tayari, Arlington Soccer Youth Director. "These kids are really enjoying it. They're having fun. We see it on their faces. We see them coming into the practices. There is zero pressure on the kids. This program is for them just to learn and just enjoy the game."
Organized and conducted by Arlington Soccer's technical staff, the program aims to offer enhanced instruction for players already participating in the recreational program but who may want to eventually pursue the travel program. The U7/U8 Futures program provides players the opportunity to learn extra skills and gain confidence in a fun and challenging training and game environment.
"We think it is very helpful for all the players at this age," Tayari said. "We think and we believe it is going to help them learn the skills and be prepared for the travel side, if they want to play the travel side. (Plus, they can) enjoy their rec games on the weekend by having more skills that they learn in this program."
Sessions were offered for boys and girls over eight weeks. Players could participate in the program's core training option once a week, with instruction designed to improve a player's familiarity with the ball, mastery of technical foot skills and game understanding. They could also meet twice a week as part of the comprehensive training option twice a week, which built upon the core training curriculum and included additional training designed to improve players' quickness and change of direction with the ball and coordination.
Along with Tots Soccer and Mini Soccer and Kinders, the U7/U8 Futures program is one piece of the Arlington Futures Program presented by Virginia 529 College Savings Plan. Arlington Futures provides the start of a unified curriculum throughout all ages and levels of play in Arlington Soccer.
"We're going to try to continue as a club to make them more excited," Tayari said. "Hopefully we keep that joy in every session for many, many years to come."